Goal: How to make beeswax wraps.
Materials:
Oven
Beeswax
Square of cotton fabric
Pinking shears
Tray
Tin foil
Grater
Steps:
Step 1 Use the pinking shears to cut a square of cotton fabric.
Step 2 Use the grater to grate the beeswax.
Step 3 Put tin foil on the tray.
Step 4 Sprinkle the grated beeswax on to the cotton fabric.
Step 5 Put the oven on at 150.
Step 6 Gently lift the cotton fabric on to the tray.
Step 7 Put the tray into the oven and wait 10 to 12 seconds.
Step 8 Take the tray out of the oven and gently lift the cotton fabric and wave it softy in the air.
Now you can wrap your sandwiches in beeswax wraps instead of gladwrap.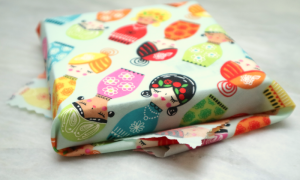 Print or Save this Post