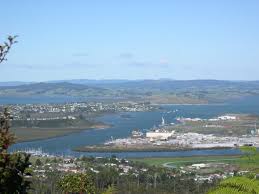 Whangarei is a small city in the North Island of New Zealand and has a population of 76,995 people.
This city is located in Northland a 2- hour drive from Auckland. It is on the East coast of NZ and near the top of the north island. The first port of call is the Whangarei Harbour and Marina. It is always packed with expensive yachts and boats tied up with ropes. The river that flows into the harbour is the Hatea River. There are three bridges going across. One of them you can go on foot and the other two are by vehicle.
There are many things to do, you could go to the Okara shopping centre and buy cool things like clothes and toys, or you can go to some yummy restaurants like Genjys, Jimmy Jacks and even Subway. You could go to the amazing Town Basin and have a lovely fresh serving of fish and chips. There's a mouthwatering place called the Fudge Farm which has many sweet things like fudge creamy milk chocolate bars AND yummy flavours of Ice cream.
There are also some fun places to visit where you have an amazing time like Flip Out ( a cool trampolining place) or a tremendously fun place called Heads Up where you ride on offroading scooters down steep hills. You can go to this cool place called Adrenaline Adventure Park. I like it mostly because in the summer there's a man-made lake and has blow-up obstacle course plus you can glamp in a spacious amazing tent. There are a lot of towns and cities in NZ but I like Whangarei the best because I live in it!

Print or Save this Post