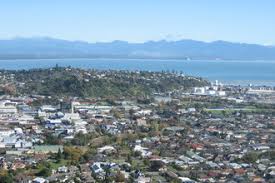 Nelson is a city that is relatively small and has a population of 51,900
residents. The region it is in is also called Nelson. It's Maori name is Whakatu which means build, raise or establish.
This city is located on the eastern shores of Tasman Bay. Nelson is the oldest city in the South Island and the second oldest in New Zealand.
There are many things that you can do in Nelson like going to the Heritage Park, Skywire, Shopping, Horse treks, Farms, Nature Park tours, Museums or walking tours around Nelson.
Nelson is also known as sunny Nelson due to its high sunshine hours per year or the top of the south because of its geographic location.
The city is named after Horatio Nelson's famous for his victory at the battle of Trafalgar. Many street's and public places in the city are named after the battle.
Nelson is particularly well known for its remote unspoilt golden sand beaches. Tasman Bay and Golden Bay are the two main bays in Nelson.

Print or Save this Post