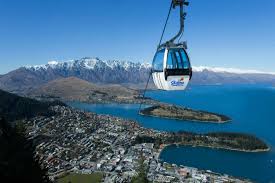 Queenstown is a tourist resort town in the South Island of NZ. It has a population of about  15 850. Queenstown is where people come for tours.
Queenstown is located in Otago and is near mountains lakes and rivers. It is in the south-west of NZ.
 Queenstown has many things you can do like riding gondolas. A gondola is when you go on a zip line in a medium-sized metal box. And another favourite popular place is to go on the Shotover river on a long enjoyable boat trip because it's fast-flowing and has rapids.
Tourists use the river for water rafting and jet boating. The jet boat riders take tourists on scary rides.
The Shotover Canyon is the world's largest and highest cliff ever.  

Print or Save this Post