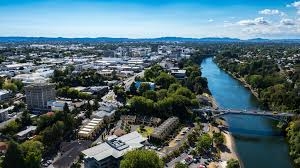 Hamilton is a big city which is in the North Island in New Zealand. Hamilton is the fourth largest city in New Zealand. It has a population of 762,808. Kirikiriroa, the city's Māori name means "long stretch of gravel."The region for Hamilton is Waikato and Waikato is located in the middle of the North Island. 
There are many fun things to do in Hamilton like going shopping in malls, seeing waterfalls, seeing the top 9 water parks in New Zealand and visiting museums full of interesting things.
The Waikato River runs up for 16 km through the city centre of Hamilton and Hamilton's is a West and East suburbs. Hamilton is the home to 145 parks, gardens and 63 sports area. The city has more than 1,000 hectares of open space.
Did you know? The National Agricultural Fieldays (the largest agricultural trade show in the  Southern Hemisphere) is held just outside Hamilton at Mystery Creek

Print or Save this Post