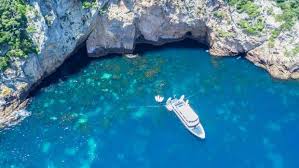 The Poor Knights Islands are located off the east coast of Northland, NZ near Tutukaka and Whananaki. The marine reserve at the Poor Knights  Islands was founded in 1981 and is looked after by D.O.C.
They got their name because they look like two knights lying down wearing their armor. The islands are covered in lush, native trees and plants. The islands have huge cliffs and drop-offs including in the water. The water is full of native kelp forests and is home to lots of different species of fish and marine life.
The Poor Knights Islands are used for a number of different activities like snorkeling through the kelp forests and looking at all the different marine life. Or paddleboarding and kayaking so you can go around sightseeing and look at all areas of the beautiful island.
These islands are well known all around the world for many reasons like the Rikoriko cave which is the biggest sea cave in the world and the huge archway hiding behind the back of the islands is actually the biggest in the Southern Hemisphere. There are also some amazing things that you don't always seem like the Tuatara which is one of the unique, endemic NZ animals on the islands but the weird thing is that many of the insects on the islands are bigger than the Tuatara.
The Poor Knights Islands are an important marine reserve. It is interesting to learn about and is well worth a visit.                                                         


Print or Save this Post