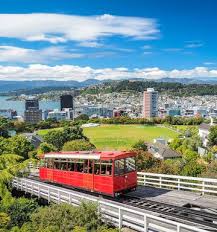 Wellington is the capital city of NZ and is also known as the windy city. Te Whanga-nui-a-Tara is it's Maori name. The population is 413,012.
Wellington is located at the bottom of the North Island. It is not only NZ's capital story it is also the second-largest city. In fact, it is the world's southernmost capital city. Wellington has been NZ's capital since 1865 and both Parliament and the Supreme Court are located in the city.
There are so many things to do in Wellington – Visiting Te Papa, riding on the cable cars and visiting Butterfly Creek. Wellington's special feature is the Beehive where parliament is. Wellington is quite a hilly place but it is small which makes it perfect for walking.
Did you know Wellington is the location of the Weta Workshop, Weta Digital and the Mirimar Film Centre? This was where Lord Of The Rings and Hobbit films were made.
Wellington is a cool place and I suggest you check it out.

Print or Save this Post